In Memoriam: J. Daniel Sagarin
09/13/2022
---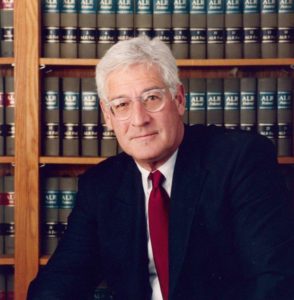 It is with great sadness that we announce the recent passing of our firm founder and colleague, J. Daniel Sagarin. Dan was a brilliant, charismatic, renaissance trial lawyer, known equally for his command of the courtroom and passionate advocacy for his clients. A high honors graduate of Lehigh University (Class of 1962), Dan attended Yale Law School (Class of 1965) and then clerked for U. S. District Judge Robert C. Zampano. After practicing in Boston, he served as an Assistant United States Attorney between 1967 and 1970. During that time, he was responsible for many major federal prosecutions and secured convictions of major crime figures in Connecticut and federal tax violators. Dan also served as an adjunct professor of trial practice at Yale Law School. He was a Fellow of the American College of Trial Lawyers and served as Connecticut Chair of the College.
In 1978, Dan joined our late partner, Lew Hurwitz, in Milford, and the firm became known as Hurwitz & Sagarin. Their partnership turned into a lifelong friendship. Dan and Lew left behind a legacy of excellence that we strive to meet every day. Dan's practice here focused on white collar criminal defense, securities and consumer class actions, and business litigation. He was a champion of the underdog — taking cases to right wrongs and to speak truth to power. Dan had the uncanny ability of finding the essence of a complicated case and then communicating it in a clear and compelling manner.
When Dan wasn't in the courtroom, you might find him on the golf course, whether that be at the Woodbridge Country Club or the Yale Golf Course, or playing cards with friends. He loved the outdoors, hiking in our national parks, and loved to travel, especially to Italy, where he visited many times.
Above all else, Dan cherished his family. Married for sixty years to his high school sweetheart, Mary. His three sons, Mark, Josh and Rafe, who passed before him. His grandchildren: Zoe, Ruby, and Hazel (Auggie) (Mark); Sam and Elle (Josh); Ella (Wheetzie) and Rosa (Rafe); and his great grandchild, Forest (Zoe).
What mattered most to him were the relationships he had with his family, friends and colleagues. Dan was a great friend and mentor. While we will greatly miss Dan, we will continue to honor his legacy with the practice of law that was so important to him.