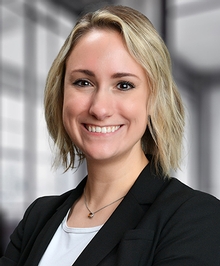 EDUCATION
Wake Forest University School of Law, J.D.
Wake Forest University A.B., B.A.
CONTACT INFORMATION

V-Card
An eager and determined advocate, Erica O. Nolan represents clients in civil litigation and land use matters.
Her civil litigation work includes employment disputes, business torts, insurance disputes, administrative proceedings, and contract disputes. Erica served as second chair in a contested case proceeding for a regional healthcare system with regard to a competitor's application to expand its emergency response operations. She has also worked on a federal discrimination lawsuit in which a minority-owned home healthcare agency brought suit against a state contractor after receiving discriminatory requests by Medicaid home healthcare recipients not to send staff of particular races and/or national origins.
Erica's land use practice consists of representing businesses, developers, and property owners in various real estate matters, including real property disputes and applications to local land use commissions. She works closely with the client's consultants and local agency staff to ensure thorough applications that comply with local regulations and achieve the development goals. Erica's work includes retail uses, gasoline stations, convenience stores, and industrial facilities.
Recognition
Connecticut Super Lawyers, Rising Star
Pro Bono Activities
Coach for the East Shoreline Catholic Academy middle school mock trial team